Windows
Energy-efficient windows for every budget and style. Custom-made for the perfect fit.
Types of Windows
Our windows are engineered to meet the needs of homes from coast to coast. Heavy-duty construction, insulated glass, and a vinyl finish that never needs painting are standard features on all our window products. Discover what's offered in your area.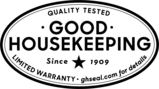 The Good Housekeeping Seal has been granted to select Window World Windows.
Learn More
Features & Benefits
We're increasing curb appeal, improving efficiency, and enhancing quality of life one home at a time.
Proudly Made in America

Much like our company, our products are homegrown. We proudly source materials from the USA, and we're committed to following this tradition.

Convenient financing

We offer financing options through the Window World Credit Card, which is issued with approved credit by Wells Fargo Bank, N.A.

See Financing Options

We stand behind our products

Our extensive warranties mean you can enjoy the peace of mind that comes from making a great purchase.

View Warranty Info
Our windows provide substantial energy efficiency and savings for your home.
How We Save You Money and Energy
Our SolarZone™ insulated glass packages are designed for superior thermal performance.
Our state-of-the-art technology cuts energy consumption and reduces your home's susceptibility to damaging ultraviolet energy that can lead to the fading of carpets, curtains, and furniture by over 75%.
Efficient and Effective

Warm-Edge Spacer System

A window's spacer system, or the component that separates glass layers, is remarkably impactful on the energy efficiency of the entire unit. The traditional spacer system can increase heat loss and cause condensation to form on the edge of the glass.

Our Warm-Edge Spacer is designed to block the path of escaping heat far more effectively, reducing condensation on winter glass. Non-conducive edges eliminate any glass-to-metal contact and contribute to a reduction of edge-to-glass temperatures. Featuring a unique design, these spacers are far more effective than their dated predecessors.

See the difference Toggle to see the incredible difference between our Warm-Edge Spacers and Traditional Spacers.

Temperature Control

High-performance Low-E coatings help maintain the perfect temperature

SolarZone Low-E glass coatings are created by applying a microscopic, undetectable metallic coating to the surface of an insulating glass unit. Its intelligent design blocks heat gain from the sun's reflected rays in the summer but allows warmth from shorter solar rays into the house during cold, winter months.

See the difference Toggle between summer and winter to see Low-E Glass in action.

Ideal Insulation

Argon gas is the perfect insulation for your windows.

We use argon gas as an insulating agent in our product to help increase energy savings in your home. This colorless, odorless, nonreactive gas is the third-most-prevalent gas in our atmosphere. Its extremely low thermal conductivity and high density make it an ideal insulating agent.

See the difference Toggle between standard and SolarZone™ to see effects of argon gas insulation.
Use our Visualizer to bring your project to life
Upload a picture of your own home and experiment with different windows, siding, and doors. Our Visualizer takes the guesswork out of your home improvement project.
Launch Visualizer